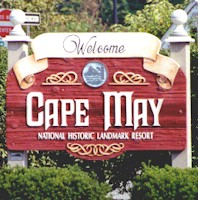 As a resort community at the end of a road Cape May New Jersey has always exceeded the expectations of visitors by maintaining the small town charm that has become synonymous with Cape May New Jersey.
There are no "chain stores" in Cape May as large, national franchisers have not located here. Instead there are scores of small shops and antique stores from the outdoor Washington Street Mall to the Beach Avenue store fronts that cater to the sun and fun crowds.
Staying in Cape May offers vacationers a wide variety of experiences making it a unique location to spend the day, a week, a month or an entire season.
When not in the ocean or on its glistening beaches, visitors can spend time in Cape May exploring nature trails, whale and dolphin watching, taking Victorian house or ghost tours, golfing, fishing, antiquing, visiting art galleries and history exhibits, or sooner or later shopping!
Cape May New Jersey is an excellent location to consider buying a business or realizing the dream of owning an Historic Cape May Inn or Hotel.
Start your search for an Cape May Business or Cape May Commercial Property here!